Nature has crafted New Zealand with the bizarre beauty of landscapes. Several destinations of this incredible country boast so many astounding natural wonders. New Zealand is a country of islands, as it consists of its two major landmasses. These are namely Te Ika a Maui and Te Wai Pounamu. This scenic nation is very affluent in bio-diversity; thus we can find different kinds of animal species here. Here are some of the most traveled destinations in New Zealand.
1. Fiordland National Park

It is the largest national park in New Zealand and covers 7,860 square kilometers. Most of Fiordland is prevailed by the Southern Alps, with two of the most traveled areas being Milford Sound and Doubtful Sound. Milford Sound is one of the most visited New Zealand holiday destinations in the country with stony peaks in the shape of an elephant head. Doubtful Sound is a prominent wildlife spotting destination with the small islands dotted across the mouth of the fiord home to New Zealand fur seals and Fiordland crested penguins. This is the best place for Dolphin lovers and many times holidaymakers can spot whales as well.
2. Queenstown

Queenstown is the rural city which is so friendly that you will feel like home here. It is located on the coast of Lake Wakatipu and with magnificent mountains as a background. Queenstown is a four season lake and alpine resort with many different types of accommodation. Queenstown will feed your imagination, fuel your passions and revitalize your senses. You can find some inexpensive Queenstown hotels that will make you extend your stay even further.
Queenstown has received its standing as the world's adventure capital. There are many adventurous boating trips and to add more thrills to your trip bungee jumping is the best choice. After this, you can opt for water rafting. There are galore other adventure sports that can give you an adrenaline rush.
3. Coromandel Peninsula

The spectacular Coromandel peninsula is a sea bound mountain array in the North Island of New Zealand. This stunning destination is accessible within a two-hour drive from New Zealand's prime city, Auckland. It is blessed with an excellent climate coupled with some of New Zealand's best shorelines. The hot water beach is one of the major crowd puller. Volcanic heat mounts through the ground letting tourists to create their own spa pool by only digging a small hole in the sand and wait for it to fill up with lukewarm sea water.
This peninsula itself has numerous characteristics of an island. The sea is quite close and the mountain backbone is high and narrow. Traveling around this area by car is generally done on shingle roads that will analyze any driver's skills. Nevertheless, the highway running northward up the scenic western coast is sealed as far as Coromandel township.
4.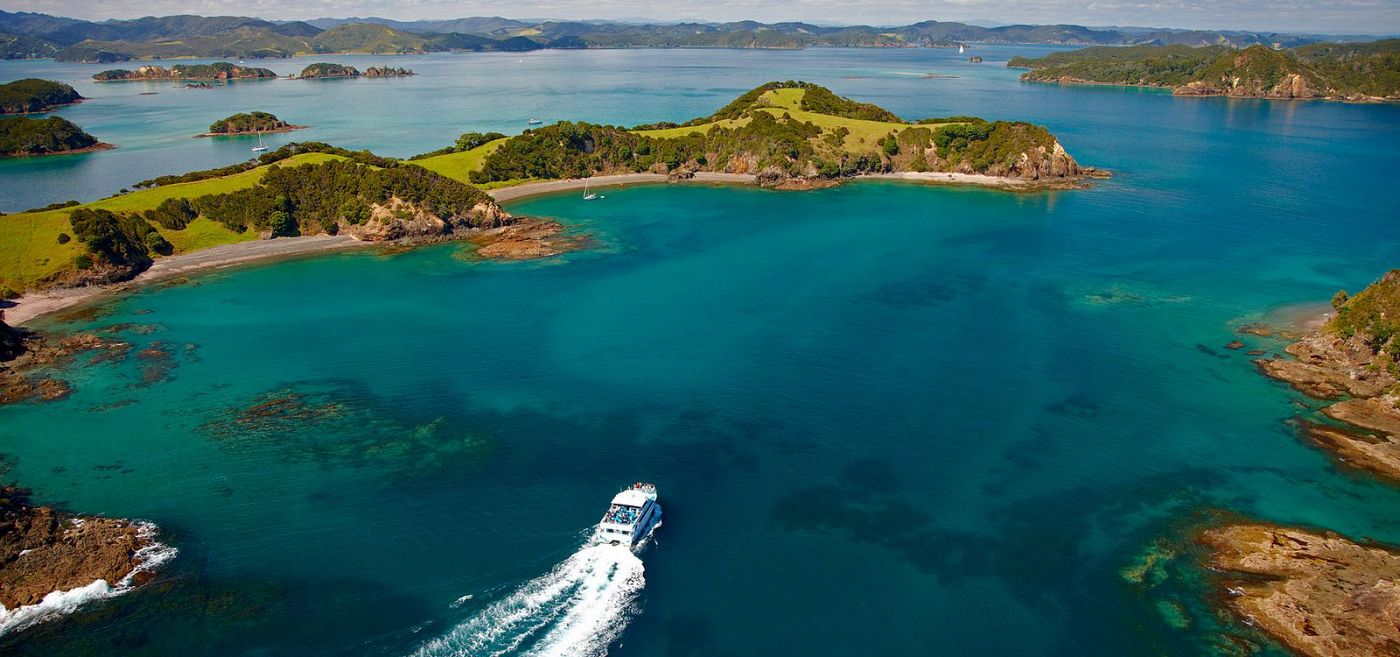 The Bay of Islands is a favorite leisure spot for many holidaymakers due to its favorable climate. It has great seashores, aquamarine waters, and silent harbor. Many tourists come here for deep-sea fishing, kayaking, swimming, cruising, sailing, water-skiing, and diving. This place is generally most packed during summer in New Zealand.
The Bay of Islands is loaded with history, brilliantly untouched islands, and aquatic creatures that would leave you mesmerized. The dolphins, whales, and blue penguins can be seen quite easily. The gracious locals will make your complete stay even more comforting.
5,183 total views, 2 views today
5183 Total View
2 Total View Today