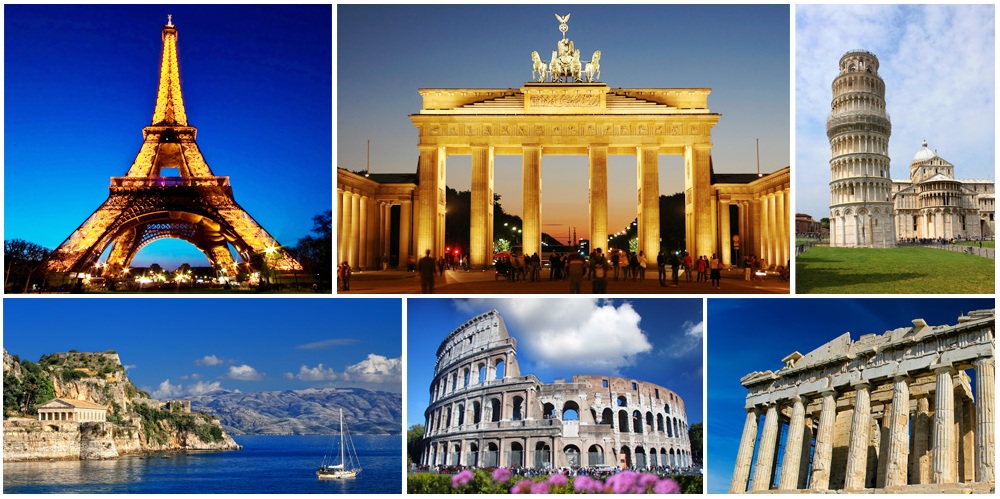 Journey is the best way to connect with people and share the untold emotions. One such memorable experience is guaranteed in Europe which is an astounding holiday destination one can think of. It is a favorite trip for the culture and art lovers. There is a lot to explore for the holidaymakers in their luxury travel in Europe. A classy trip is guaranteed if you have reliable information about various holiday destinations. Travelers should try to make their trip happening because that will not only spoil their mood but will be a complete wastage of money. Here are some of the marvelous countries in Europe that have galore attractions to fill its travelers with amazement.
Greece
A luxury travel in Greece opens you to a fantastic and fun-filled Greek adventure. Greece will enchant you with its historic sites of Rhodes, Athens, and Delphi. If these not intrigues you much then choices of water sports, luxury hotels and beach villas are all available to add color to your vacations in Greece.
While exploring travelers will find that it is the cradle of western civilization. Greece has 5000 years old history. The beautiful sunshine of its 1400 idyllic seashores is unmatched. There are really enchanting honeymoon destinations in Greece that are widely celebrated among the newlyweds. Tourists can board a yacht or go sailing, or try diving. Explore beauteous villages and cities, ancient sites, or any of the black or white sand beaches. Everything looks even more beautiful during the evening time. Spend your time enjoying some Greek wine with your friends looking at the sea. If you just want to relax with your better half, check into a luxurious ocean view suite and the worldly things just fade away.
Greece has so many islands to choose from, it is obvious to check out the best accommodations with affordable budgets. When you plan your travel to Greece, you will surely get the best holiday accommodation. These days, you can easily determine where you want to stay by going online. Several websites are there which provides great booking and reservation schemes.

Switzerland
Switzerland can spell bound you with its magical scenic views. It is also known as the land of the Alps, and with its awe-inspiring nature full of snow covered mountain tops and crystal clear lakes it is a perfect destination for many holidaymakers. There are many honeymoon destinations in Switzerland that are celebrated for their picturesque locations. The Matterhorn in Zermatt, Geneva, The Rhine Falls etc are some of its major attractions. As this beautiful land is surrounded by three different countries, namely France, Italy and Germany travelers can see the fusion of culture in Switzerland. The mixed culture that is seen here is simply amazing and this is one of the reasons why so many people from around the globe, troop for Switzerland vacation. Apart from the colorful landscapes and the crystal clear lakes, it has a number of sites which have both archeological and historical importance to the modern humanity. The museums here are quite unique because they are all stores treasures for the historians and art lovers. Switzerland vacations are known to offer some of the best experience when it comes to the fusion of cultures. This is the reason why it is called as the "Mecca" of tourists and is always the first choice of people of all nationality and age.
Italy
Your Europe trip is not complete without Italy. During your luxury travel in Italy, you can see the architectural radiance and spectacular beauty in this country. This is the reason why most people plan their vacation here. This country has amazing culture and lifestyle with adopting modern day developments. One can see the beautiful city of Venice and enjoy its delicious food, great culture, and music. Italy is full of historical places which made it an ideal travel spot. The tourist season in Italy starts from June and expands till September. It has grandeur, elegance and history that makes it a favorite luxury travel for many holidaymakers. If this is your first trip as couples then Venice is the place to be in. While visiting Venice, which is considered as one of the prominent honeymoon destinations in Italy tourists can get a ride to some of the best shopping areas in Europe. This can make a nice first impression on your better half as ladies love to do a lot of shopping. As the night falls, tourists can enjoy the lights of the city as they make their way through the waterways. The views, sounds and smells will stimulate your senses and the effect they leave will stay with you for a lifetime.
France
France is the first choice for lovebirds. Its capital Rome is the romantic abode for the couples around the globe. So great is France's appeal, it usually ranks as the most prominent Europe holiday destination. France boasts luxury hotels of all sizes and budgets – including big city chain names, countryside chateaux, and seaside boutiques.
Services offered here are of extraordinarily high standards. Its capital city Paris has glory to tell. This is the most visited city in the world and regularly categorized among the list of most expensive and luxurious cities to live. This city has a wide array of exclusive hotels, villas and private accommodation. Paris has something very special for everyone. Few of the biggest names in the travel catalogue include the Eiffel Tower which is one of the wonders of the world. The ever beautiful Champs-Ulysses, the terrace gardens, and captivating streets present the medieval architecture so nicely that every tourist gets magnetized by these intriguing designs.

Iceland
It is really well said about Iceland – "If you have started your love in Paris then come to Iceland to put the fire in it". It has many active volcanoes which have shiny ice caps. Iceland is a naturally gifted as it has received a uniquely varied geology. The icecaps of Iceland are the largest after Greenland and Antarctica and it is loaded with hot water geysers, which offers scenic view. Iceland luxury travel is quite famous among young adventurers nowadays. Comprised of snow and fire, this geologically young country calls you to relish the perfect blend of natural contrast.
It is considered as a heaven for hikers. Conservation Areas and National Parks around Iceland are quite engaging. If you are planning for summer vacations, then Iceland is the best option. A holiday in Iceland can allure you with numerous sports and activities including fishing, horse riding, kayaking, sea-angling, canoeing, water-rafting, snowmobile ride and much more. The incredible nightlife in Iceland is almost unbelievable. Many of the bars and clubs do not open until midnight, and then they do not close until 8am or later. The luxury destinations in Iceland offers its visitors and locals both great experience of enjoying great drinks, terrific food, and all of the socializing they could probably want.
6,407 total views, 1 views today
6418 Total View
1 Total View Today