New Zealand offers a very diverse range of sightseer attractions and adventure activities. It has magnetizing long and narrow endless kilometers of coastline. This naturally gifted nation has long and sandy beaches, picturesque bays over hung with stunning silver green, red flowering, and, just perfect for rock hounds. A luxury travel in Newzealand is definitely a trip of a lifetime. Here are some of the prominently traveled destinations.
1. Bay of Islands
The Bay of Islands is one of the best places to go in New Zealand for sailing, fishing, and other water sports. This lovely region is made up of 144 islands that come in between the Purerua Peninsula and Cape Brett.
You can just get on or in the water! Many holidaymakers are spotted trying scuba diving here. Tourists can explore a whole new underwater world to become close and personal with the marine life in the Bay of Islands. You'll get to see whales and dolphins from the boat and, if conditions permit, swim with wild dolphins.

2. Tongariro National park

This first national park of New Zealand has a rocky, volcanic landscape that is known for its extremes and surprises. It has a varied range of ecosystem that includes active volcanoes, tranquil lakes, desert-like plateaus and wild forest. It has a popular 19km hike through the center which is called as the Tongariro Alphine Crossing.
If you have four to six days to kill in your New Zealand luxury travel, you must consider the round the mountain track that goes around much of the Volcanic Plateau and its delightful view. The lake Rotopounamu loop track is just as heavenly, with lakes to dip in and plenty of birds to look for.
Bird watching is the most common attraction of the Tongariro National Park, with some 56 species to discover, by the way. Finding the local wildlife is also a big deal for the holidaymakers, so keep your eyes out for red deer and orchids, too.
3. Rotorua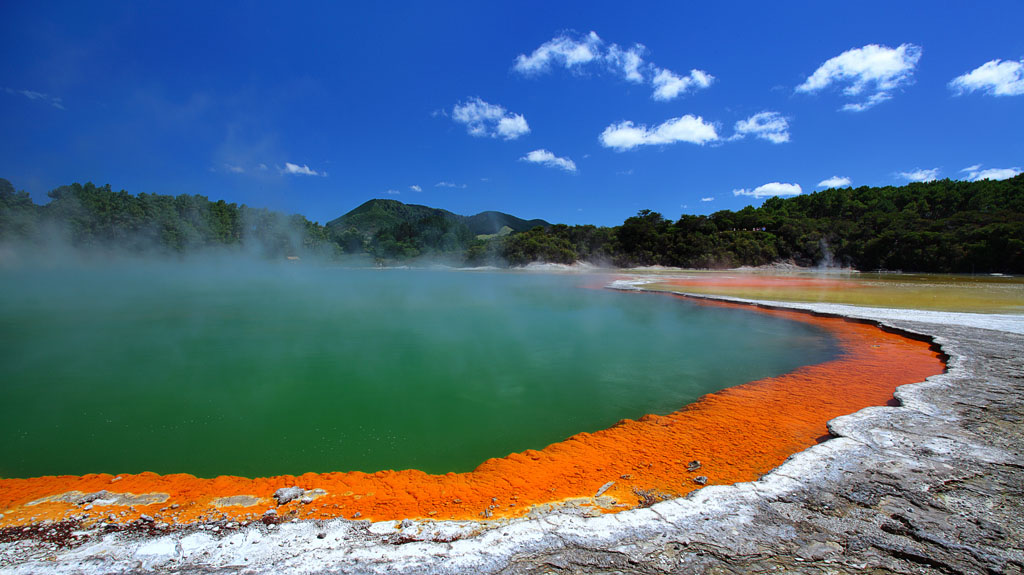 This is one of the must-see luxury destinations in New Zealand. It is generally known as the thermal wonderland of the nation since 1880. The mud pools, thermal springs, and geysers are the celebrated tourist attractions in area. The Wai-O-Tapu in the near vicinity is another popular interest among travelers because of the hot springs noted for the vibrant appearance.
Rotorua is a gemstone in the North Island, with a center of Maori Culture, geothermal wonders, Lakes, Parks, Natural History and several modern day attractions. Most holidaymakers comment on the smell when they arrive here. The smell of sulphur is a clue of thermal activity that is palpable in the region. It is Hydrogen Sulphide and while distinct at first, if you halt for any length of time you will get used to it and notice it very rarely.
4. Franz Josef Glacier
It is Located within Westland National Park and measured as an enormous draw on the South Island's coast. This glacier is considered as one of the world's most easily reached tracks. The Franz Josef Glacier is strikingly beautiful, even if it is continually changing with all the global transformation going on. Over a quarter of a million people a year come to trek on the glacier and the preference is yours if you want to consult a guide or do it totally on your own.
After a long day of glacier climbing, no matter what your age, there is complete probability that you're going to be tired. New Zealand luxury travel offers a whole bunch of accommodations to provide great services to the visitors.
5. Queenstown, South Island
Queenstown is New Zealand's adventure capital that is snuggled between the snowy peaks of the Remarkables and the shores of shimmering Lake Wakatipu. It is one of the country's top destinations for international visitors. Tourists can enjoy some of the adrenaline-fueled sports such as jet boating, Bungee jumping, paragliding, white-water rafting, mountain biking, rock climbing, and downhill skiing.
Holidaymakers can explore the striking alpine scenery on the excellent network of hiking pathway. With the exhilarating adventure sports, New Zealand luxury travel offers all the travelers comforts with first-class hotels and restaurants. Queenstown is also an enormous base for trips to the Central Otago region, where tourists can discover gold mining towns.
5,802 total views, 2 views today
5802 Total View
2 Total View Today